From the most impressive album, "
The Otis Redding Dictionary of Soul
" comes a most memorable soul version of the country music tune "Tennessee Waltz", featuring Otis and backed by the legendary Booker T. and the MGs.
Reinventions in pop culture are often merely lost in time, even though they stand as unique creations all on their own. Another stunning example, is Al Green's super-soul version of the country ballad "For the Good Times", a Kris Kristofferson tune, which Al brings to vivid life in this Soul Train appearance.
Reinventions do not always succeed, yet the sheer brazen oddity of such creations stand out - for example, the immensely popular 1950s TV series version of the "Adventures of Superman" inspired some folks to create a TV show about ... um ... well, Superman had a dog named Krytpo in the comics, but these TV producers decided to make a show called "The Adventures of Superpup". A pilot episode was filmed,
which you can watch on YouTube
and it is uniquely bad and yet certainly memorable.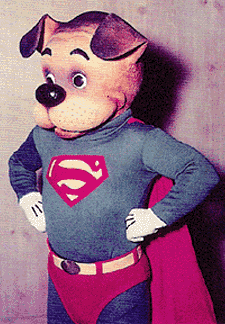 Superpup is secretly the mild-mannered reporter Bark Kent, working for the gruff editor Terry Bite and he's got a girlfriend named Pamela Poodle. And for some reason Superman's pal Jimmy Olsen is now Superpup's pal, but he's been transformed into a hand puppet mouse. Just check it out.
Just goes to show ya, reinventions and remakes have always been with us, some are wonderful and some too strange to be anything other than historical oddities.