Buffy creator Joss Whedon and cast-members of the show were at the Paley Center yesterday for a discussion of the show, an event which had Sarah Michelle Gellar on-stage and talking about the show for the first time. One newish project mentioned is the online musical Whedon is making with Neil Patrick Harris, called "Dr. Horrible's Sing-Along Blog". It's a series of 10-minute webisodes about a low-rent villian (Harris) and a superhero (Nathan Fillion, of "Firefly") who keeps beating him up.

The blogger at Futon Critic was at the event and has a good account of what was said which you can read right here. Cast members talked about some of the best episodes, like "Hush" and "The Body", and no, there is no reunion movie project ahead. Plenty of pictures here.

-----

Good news, everyone!

The first of four Futurama movies, "Bender's Big Score" airs Monday on Comedy Central. The 2nd movie, "The Beast With A Billion Backs", arrives on DVD in June. Plenty of details from creator David Cohen here.

And remember - Everyone Loves Hypnotoad!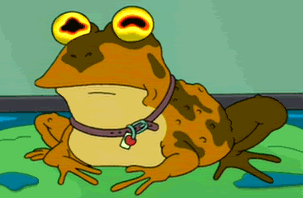 -----


Benecio del Toro goes Lobo as a Monster-Wearing-Pants in the big budget re-telling of "The Wolfman" Yes there are even more pictures here at the MovieMorlocks blog.

Rick Baker (who else?) is the man creating the makeup for the movie.

So, a question for you -- has there ever, EVER, been a good werewolf movie? I always found some humor and enjoyment in "I Was A Teenage Werewolf", and then there was the Watergate-inspired "The Werewolf of Washington" which made me laugh too.

Comedy was the king in "An American Werewolf in London", too, but that doesn't mean it was a good movie. So, the question - is there such a thing as a good werewolf movie? I say no.

-----

I've recently seen a couple of nightmarish movies about the Hell that is High School and found that both of them are quite good and worth viewing. First up was the long-delayed feature "The Woods" from director Lucky McKee. Lucky scored big with his first feature "May", and though his second feature lay quietly on the shelf for some years, "The Woods" is now available on cable and on DVD.

It's set in 1965 at an all-girls boarding school and McKee relies solely on atmosphere and creepy characters to propel the story along. it has some similarities to "Suspiria" but here we have the added attraction of Bruce Campbell as the poor Dad who reluctantly allows his little girl to leave home and attend a school where the faculty is ... well, no surprises to hide, they are witches.

What makes the movie work is McKee's solid and steady direction. Yes, the story is familiar, but he presents it with great atmosphere and suspense, does not rely on gore or torture porn, and instead makes an excellent old-fashioned horror film. I think most viewers will like it - some who crave more onscreen deviance may not.

Speaking of Bad Things At Boarding Schools, "Evil" is a very disturbing morality tale from Swedish/Danish filmmakers, with the original language title of "Ondskan". The movie was nominated for an Oscar award as Best Foreign language film and is set in post-World War 2 Europe. The movie appears to be simple and straight-forward, but there are layers and layers here, many of which raise far more questions than the movie can answer - but that's the point.



A young man named Erik lives in a household where his step-dad beats him for no reason, and as Erik acts out in violent attacks at school, he is expelled. "You are Evil", says the school principal.

His parents shuffle him off to a boarding school where class systems provide an institutional brutality, and since Erik has vowed to leave his violent ways behind, the challenge from the social/psychological cruelties from upper classmen gets very intense very fast. The movie could have easily been a Z-grade revenge flick, but that is not where this movie is headed.

While Erik tries to remain tough and unresponsive to attack, innocent friends are drawn into the attacks. Should he go on the attack to protect them? Do they want such a defense? No matter how Erik tries to respond (or not respond), the situation becomes worse for those around him. Some major concepts in morality and justice and more are offered here, with no simple solutions. This is a truly complex tale for our very complex times.

I couldn't help but be reminded of another hell-in-high-school movie called "If ...", where violent overthrow of the status quo is presented as a justified response to insane structures. In "Evil," there is a more subtle tale being told.